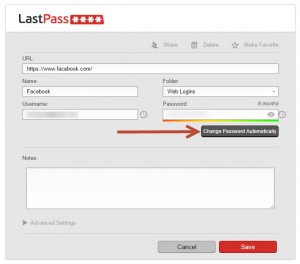 In case you needed yet another reason to use LastPass…
We're excited to announce that the Auto-Password Change feature we released to our Pre-Build Team last week is now available for all users in beta. LastPass can now change passwords for you, automatically. We're releasing this feature for free to all our users, on Chrome, Safari, and Firefox (starting with version 3.1.70).

…

Auto-Password Change already supports 75 of the most popular websites, including Facebook, Twitter, Amazon, Pinterest, Home Depot, and Dropbox. When clicking "edit" for a supported site, a "Change Password Automatically" button appears.

…

Once clicked, LastPass opens a new tab where it logs in for you, creates a new password, and submits the changes on the website, while also saving them to LastPass. Next time you log in to that website, LastPass will autofill with the newly-generated password. And all you had to do was click a button!
Read the full article @ Blog.LastPass.com